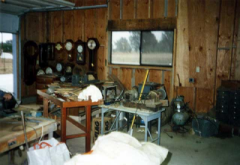 Small Cloud Christian School is the result of impossible dreams made possible through faith. It all began as a dream--a dream of helping children learn about the Creator who made them.
Small Cloud started in a barn. One room was converted into a small classroom. The other side of the wall housed a small herd of cows! Those were days when learning had a few agricultural distractions.
Our one-room classroom was quickly outgrown, but our budget did not grow quite so quickly. Nevertheless, by the end of our second year, a new classroom was a definite necessity. The front porch was screened in, desks were arranged, and an outdoor classroom took shape.
It was a beauty but, again, there were a few drawbacks. Migrating geese, disappearing students (they had only to duck silently beneath the screening, and they were gone), heat, and wind were a few of the difficulties in our little outdoor learning center.
A new schoolroom simply had to be built. But how?
The history of Small Cloud is a story of miracles. God has opened doors and closed doors just in time. He has touched hearts and moved in mysterious ways.
Just when we felt we couldn't get along without an extra classroom, God provided. Knowledgeable volunteers arrived to assist with construction. Donations trickled in, and low-interest credit cards helped purchase the most necessary building materials. Other materials were either donated or purchased at reducedn prices.
The work inched forward while classes continued on schedule. The teachers rose early each morning to transport students to school, teach a full day, return the students to their homes, and then come back to school to help with construction until late into the evening.
All through the school year and on into the long, hot days of summer we framed,  installed plumbing, stained cabinets, painted, pulled out the old floor covering, then put in new carpet. We worked, we sweated, we laughed, and we prayed until…at last everything was done. The new school building was finished. We could rest at last!
Well, not quite!
The building was complete, but we needed legal permission (a use-permit) to continue using it as a school. For understandable reasons, the neighbors weren't too excited about the whole idea. Once again, we appealed to our heavenly Father to intervene. In June 2003, after we worked out the particulars with our neighbors, a permanent use-permit was granted.
Each year seems to usher in its own peculiar challenges, trials, blessings–and activities! From maintaining files to writing lesson plans, from licensing a new school-bus driver to grading papers, from teaching classes to supervising recesses, Small Cloud is a continuous bustle of activity. Today, by God's grace and provision, the school  has three classrooms (all with solid walls), with enough room for 32 students ranging in age from Kindergarten through 12th grade. Thankfully, under God's watchful eye, the work gets done and the students blossom and grow.
It's been fifteen years already. Fifteen years of answered prayers, miracles, and growth. But, really, it's only the beginning....